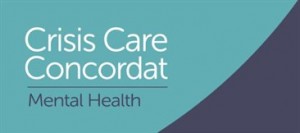 The Mental Health Crisis Care Concordat is a national agreement between services and agencies involved in the care and support of people in crisis. It sets out how organisations will work together better to make sure that people get the help they need when they are having a mental health crisis.
In February 2014, 22 national bodies involved in health, policing, social care, housing, local government and the third sector came together and signed the Crisis Care Concordat. Since then five more bodies have signed the Concordat, making a total of 27 national signatories.
The Concordat focuses on four main areas:
Access to support before crisis point – making sure people with mental health problems can get help 24 hours a day and that when they ask for help, they are taken seriously.
Urgent and emergency access to crisis care – making sure that a mental health crisis is treated with the same urgency as a physical health emergency.
Quality of treatment and care when in crisis – making sure that people are treated with dignity and respect, in a therapeutic environment.
Recovery and staying well – preventing future crises by making sure people are referred to appropriate services.
Although the Crisis Care Concordat focuses on the responses to acute mental health crises, it also includes a section on prevention and intervention. The Concordat builds on and does not replace existing guidance. Current service provision should continue while the Action Plan is being devised.
To read Hull and East Ridings Crisis Care Concordat plan please click here.