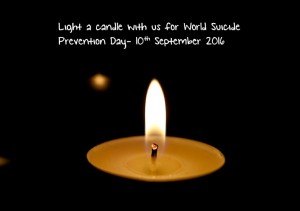 Hull and East Yorkshire Mind, the local mental health charity, is supporting this year's World Suicide Prevention Day, and calling on local people to be more aware of suicide prevention.
Will Adam, Service Manager at Hull and East Yorkshire Mind, said "Too many people die each year through suicide. Research carried out by the Samaritans shows that over 6000 people die each year this way.  We also know that suicide is under reported due to misclassification of the cause of death, so this figure is likely to be higher in reality.
"Unfortunately suicide is not rare, but is preventable.  There are things we can all do to help prevent suicide in our local communities, not least be more willing to talk openly about it and help to challenge the stigma.
"We can help someone who is considering suicide by looking out for anything that shows they are trying to tell us about it; asking them if they are considering suicide; listening; and keeping them safe."
World Suicide prevention awareness day is on 10th September this year. Hull and East Yorkshire Mind are planning to use the day to raise awareness of suicide prevention.
They are also holding an event at Hessle Church where people will be able to light a candle to show support for suicide prevention; to remember a lost loved one; and for the survivors of suicide. Everyone is welcome to attend.
If you are not able to attend, we encourage you to light a candle in your window at 8pm on 10th September.
If you need help for yourself or a friend, we have a list of emergency contacts here.