Reaching Out in the East Riding

The Reach Out Project support residents of the East Riding of Yorkshire aged 16+ experiencing mild to moderate mental health problems and the effects these may have on people's lives.
Reach Out can offer 1to1 support & advice, mental health & wellbeing courses and workshops at various venues across the East Riding of Yorkshire.
A free 16 week programme of advice, guidance and information workshops, including time to socialise and chat.
Click to enlarge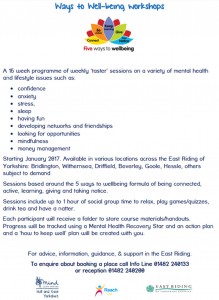 'Improving You'  starting 25th October:  for Bridlington (10am – 12noon) and
Driffield (1.30pm – 3.30pm). For other areas call to secure your place
Call 01482 240133 to book your place
Click to enlarge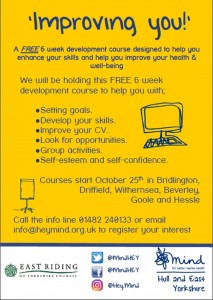 The links below will give you access to advice and support on the issues listed
Smoking and Mental Health
Being smoke-free helps relieve stress, anxiety and depression and gives you a more positive outlook on life. These benefits apply to all smokers, not just those with pre-existing mental health problems.
Nutrition and Mental Health
Eating a healthy diet can do a lot to improve your mood and sense of wellbeing. Explore the relationship between what you eat and how you feel.
Physical Activity and Mental Health
We all know that being physically active is good for our bodies. But our physical health and mental health are closely linked – so physical activity can be very beneficial for our mental health and wellbeing too.
Mental Health Problems and Physical Health
Poor physical health can lead to an increased risk of developing mental health problems. Similarly, poor mental health can negatively impact on physical health, leading to an increased risk of some conditions.
Long Term Conditions and Mental Health
People with long-term health conditions are more likely to suffer poor mental health. Hull & East Yorkshire Mind will work with you to identify the best course of treatment/therapy to improve your mental well-being.
'Improving your Health' with East Riding of Yorkshire Council, see link below:
Mental illness affects 1 in 4 people in England.
We are there to help!
Sign up for email updates