Map Unavailable
Date/Time
Date(s) - 01/01/2018 - 31/01/2018
All Day
Categories No Categories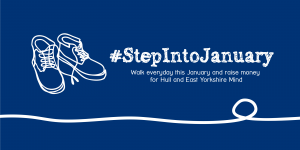 Whether you decide to run or walk your way through January. There are no rules. The aim is to GET ACTIVE every day.
It could be anything from 5 minutes a day to 5 or 10k and beyond – it's entirely up to you. By running every day in January, you can kick-start the year in the most positive way possible, helping to make a difference to peoples lives, including your own.
A good walk can do wonders for your mental wellbeing.
It improves self-perception and self-esteem, mood and sleep quality, and it reduces stress, anxiety and fatigue. Physically active people have up to a 30% reduced risk of becoming depressed, and staying active helps those who are depressed recover.
The New Year is perfect for taking on new challenges, so why not step into 2018 in style? Walk every day and help to raise money for Hull and East Yorkshire Mind!
Set yourself the challenge of walking every day and get your friends, family and colleagues to sponsor you. You could even get them to sponsor you an amount per day, giving you all the motivation you need to complete your challenge.
Sign up here – www.heymind.org.uk/sign-up-forms